Events
Embedded World 2020 <Finished>

eSOL participated in Embedded World 2020 held in Nuremberg, Germany from February 25th to 27th, 2020.
eSOL showcased product demonstrations targeting the automotive and industrial markets, using the following technologies:
High-performance and Scalable Real-Time platform with Safety and Reliability
for Edge Computing
RTOS | Multi/Many-core | Virtualization | AUTOSAR | ROS/ROS 2 | Functional Safety | Mixed Criticality

Theme
Related products
Hypervisor for Mixed-criticality


Innovative RTOS for Edge Computing
Scalable solution for Deep Learning
[In collaboration with Kalray]


AUTOSAR Adaptive & Classic Platforms


eSOL's unique eMCOS multi-kernel RTOS
was used in these demonstrations. eMCOS offers high scalability and performance: it scales from simple single-core MCUs up to complex multi/many-core processors, and supports multi-chip configurations. eMCOS brings its hard real-time capabilities and high reliability to the latest advanced systems such as autonomous driving systems, industrial robots, medical equipments and edge computing platforms.
Also,
eSOL presented our innovative real-time platform solutions at the Conference and Exhibitor's Forum of Embedded World 2020
.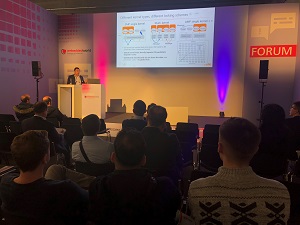 Please feel free to contact us for more detailed information or a personal product demonstration.

Event information
| | |
| --- | --- |
| Date | February 25th - 27th, 2020 |
| Venue | Exhibition Centre Nuremberg, Germany |
| eSOL's stand no. | 4-506, in Hall 4 |
Speech information
Conference
Date/Time
February 25th, 10:00-10:30

Session
3.1 I: Embedded OS I - Basics I

Venue
Conference Counter NCC Ost
Title
OS Evolution: Monolithic to Microkernel to Multi-kernel
Abstract
Most people consider the OS design like a completed piece of work, and concentrate on higher software layers in their system. This could not be further from the truth: research is still strong on operating system design, and increased software concurrency and parallelism, as well as safety and security concerns are pushing towards new designs.
While it is mostly approved that a microkernel design leads to a more robust system, scaling up the number of cores and running a single OS over a distributed platform remains a critical step for next-generation computing.
This presentation focuses on the more recent design in the Operating System field, the multi-kernel approach. It will first cover the history of using monolithic design, then microkernel to improve separation memory-wise, and the evolution towards a multi-kernel design for separate CPU management.
Some performance concerns and results will also be discussed.
Speaker
Rolland Dudemaine, Dipl. Ingr., eSOL Europe S.A.S.

Exhibitor's Forum
Date/Time
February 26th, 14:00-14:30

Venue
Stand no. 3-719, in Hall 3

Title
Scaling up, down and right
- a distributed micro-kernel for Automotive, Robotics and IoT
Abstract
With constant evolution of both hardware and application-level software, operating systems also must adapt to more advanced architectures. eSOL eMCOS is a distributed microkernel that can scale from small 32-bit microcontrollers, up to many-core processors with POSIX PSE53 support. This allows a unified platform for tiny Edge IoT devices, ROS-based robotics, but also HPC and autonomous driving.
Speaker
Rolland Dudemaine, Dipl. Ingr., eSOL Europe S.A.S.