Intel SoC Developer Forum <Finished>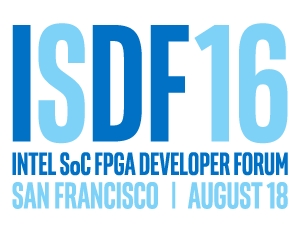 The Intel SoC FPGA Developer Forum (ISDF) is an event dedicated to the technology and application of SoC FPGAs in the Internet of Things (IoT), data center and cloud computing, networking and communications, industrial, automotive, and more. Get an edge while developing your next system design through in-depth technical content and workshops.
eSOL will showcase its eT-Kernel real-time OS-based software platform for SoC FPGAs. The free 30-day eT-Kernel RTOS Evaluation Kit for Cyclone V SoC is now available.
Come visit eSOL at the Intel SoC Developers Forum.
Event schedule
Date
August 18, 2016
Venue
Rooms 2001/2003
Moscone West Convention Center
800 Howard Street San Francisco, CA 94103

Co-located with Day 3 of the Intel Developer Forum (IDF)