Events
Arm Tech Symposia 2019 <Finished>
eSOL participated in Arm Tech Symposia 2019 in China, Taiwan, and Korea.
The latest materials are available download!
In this event, eSOL showcased the following demonstrations:

AUBIST Adaptive and Classic Platforms on Renesas R-Car H3 [Products of AUBASS]

eMCOS on XILINX MPSoC UltraZ AD
Our demonstration depicted an unattended delivery system with autonomous driving vehicle using our AUTOSAR-compliant, AUBIST Adaptive Platform.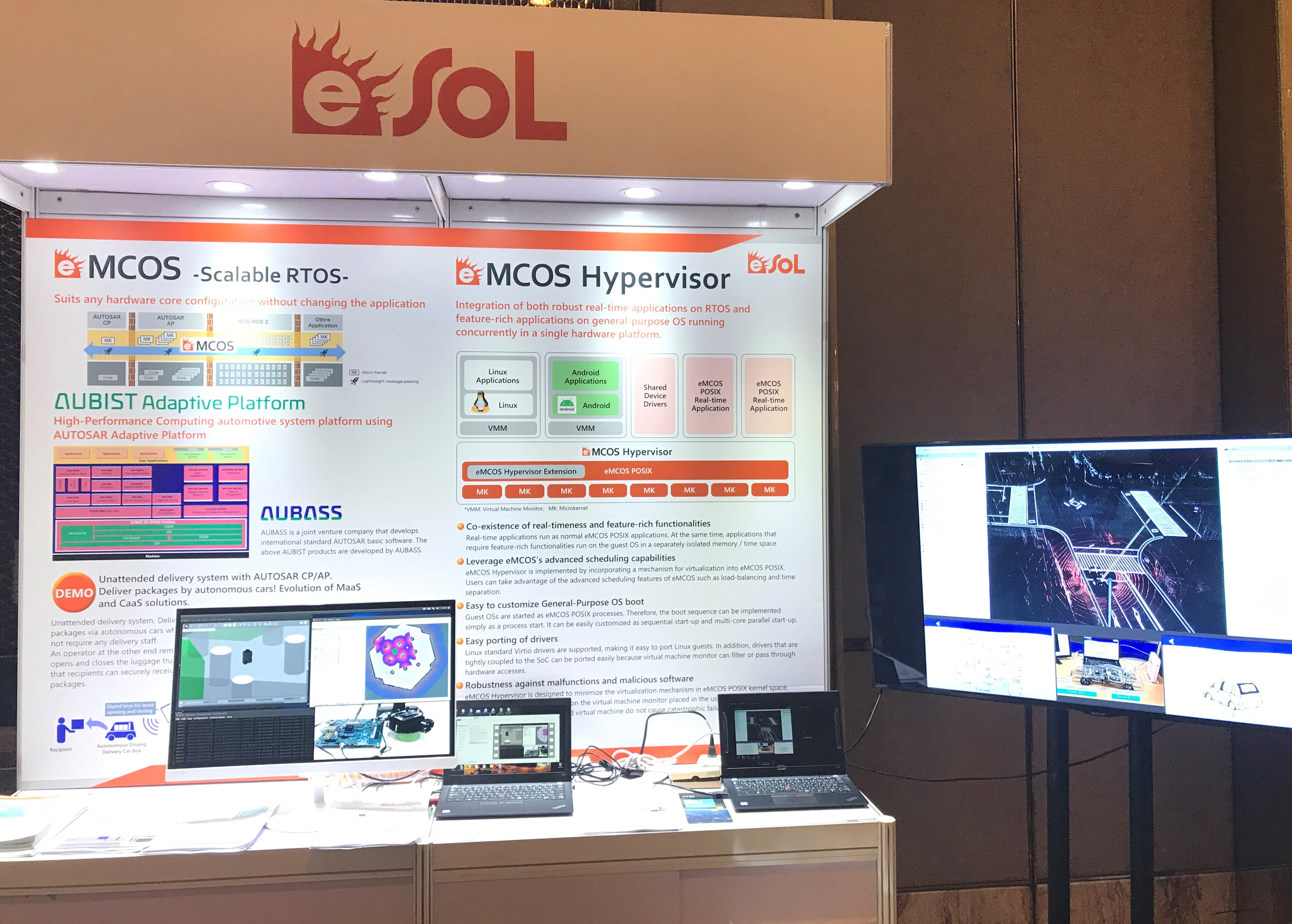 With security as the key concern for autonomous systems, AUBIST Adaptive Platform allows critical applications, such as driving control, to coexist in a safe and isolated state with non-critical MaaS/CaaS applications.

The integrated system can therefore operate safely, with the combination of centered ECUs meant for high performance computing and sensor / actuator control ECUs.
Our solutions' points are below:
1) Combination of various automotive applications with different safety and security requirements can be developed as a single system
2) Flexibility for a variety of hardware configurations, including heterogeneous multicore and GPU, etc

In conjunction with the theme of our exhibition, we made a speech titled "High Performance, Power Efficient platform for MaaS / CaaS and Autonomous Driving" in Shanghai, Taipei, and Seoul.


Event information
eSOL participated in the following cities. Please visit the listed Arm website for free registration.
China
Shanghai
Date/Time
Friday, October 25
Location
The Ritz-Carlton, Shanghai
Taiwan
Taipei
Date/Time
Wednesday, November 6

Location
Taipei Marriott Hotel
Korea
| | |
| --- | --- |
| Date/Time | Tuesday, November 12 |
| Location | InterContinental Seoul COEX, Harmony Ballroom (B1), Seoul, Korea |
Speech information
City/Date/Time
Shanghai: Friday, Oct. 25, 13:30-14:00, Track B
Taipei: Wednesday, Nov. 6, 15:00-15:30, Track B
Seoul: Tuesday, Nov. 12, 14:00-14:30, Track B

Title
High Performance, Power Efficient platform for MaaS / CaaS and Autonomous Driving
Abstract
Connected Vehicles and Automated Vehicles catering to increasingly complex MaaS / CaaS applications.

High-performance and Power Efficient platforms are required for heterogeneous computing, combining Many-core / Multi-core CPU, GPU, etc., which is the foundation of eSOL software platform.

We will also introduce our solution with Pelion IoT Platform for safety and security for Connected Vehicles.