Overview
eSOL supports you in the implementation of Functional Safety of embedded software for automotive, medical, and industrial fields by combining consulting and contract development services.
In addition, eSOL provides support using the "JASPAR ISO 26262 Compliance Template," based on know-how acquired during activities with the JasPar Functional Safety Working Group.
Objectives




ISO 26262、IEC 62304、IEC 61508


Target regions




Mainly system and software regions

* Consultation also possible regarding standards in regions other thank the above.


Functional Safety Support Service Menu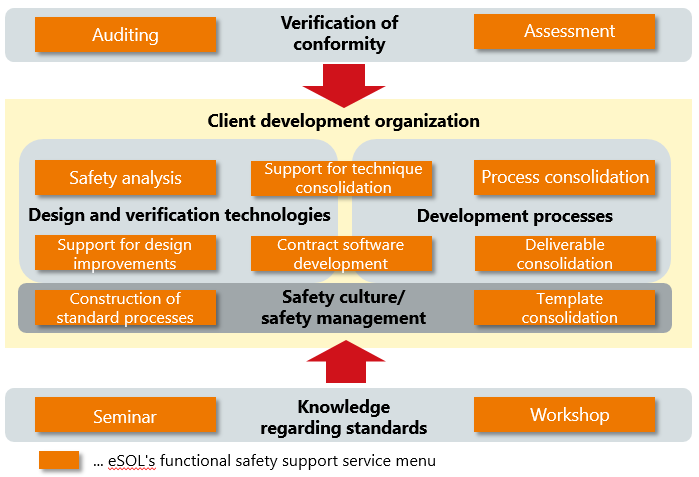 Service Details
Region
Item
Description
Basic Knowledge
Seminar
Technical seminar related to the standard details or application

Workshop
Hands-on seminar based on examples
Safety culture/safety management
Construction of standard processes
Construction of functional safety support standard processes and various standards
Template consolidation
Construction of deliverable templates, deliverable creation procedures, and rules
Development processes
Process consolidation
Analysis of current state of existing development processes and introduction of functional safety support
Deliverable consolidation support
Consolidation of deliverable documents proving safety
Design and verification technologies
Introduction of safety analysis
Introduction of safety analysis and establishment of operations
Consolidation of design and verification techniques
Introduction of functional safety mentality into requirements, design, and verification

Support for design improvements
Improvement of architecture design in order to reduce complexity

Contract software development
Contract development of software supporting functional safety
Verification of conformity (*)
Auditing

Verification of implementation of processes following the safety plan
Assessment
Comprehensive evaluation of the functional safety of a development target
* Implemented in collaboration with a third-party certification authority.



JASPAR Template for ISO 26262
eSOL is a key member of the JasPar functional safety working group, and has a complete understanding of ISO 26262. Using extensive know-how acquired as part of this Functional Safety working group, eSOL provides support by using the ISO 26262 JASPAR template.