Overview
Managing the development process manually is no longer effective in the ever-more enormous and complex software development environment of today's intelligent embedded systems. At the same time, the demand for stringent product quality management and accountability is increasing, especially in mission-critical systems, including infrastructure systems and those that require conformance to functional safety standards to prevent severe accidents.

eWeaver application lifecycle management tools solve the challenges to secure and improve embedded software quality. The OSS-based eWeaver provides a web browser user interface for easy access even by geographically dispersed development teams. eWeaver accelerates practicing the agile scrum methodology and ensuring the traceability that functional safety standards require. It provides comprehensive management for any activities and artifacts throughout the V-model software development lifecycle. The processes that the tool suite covers range from requirements analysis through design, coding, testing, and review. eWeaver semi-automatically manages a series of these processes from top to bottom, and thus ensures traceability. It also contributes to efficient development by saving developers the time and effort of management tasks and reworking due to missing work and duplication of work.

The competitive license price promotes the introduction of eWeaver for every manufacturer and vendor developing safe systems that are required to conform to functional safety standards, including in-vehicle equipment, factory automation/industrial equipment and medical devices, and quality systems including security devices and infrastructure equipment.
System framework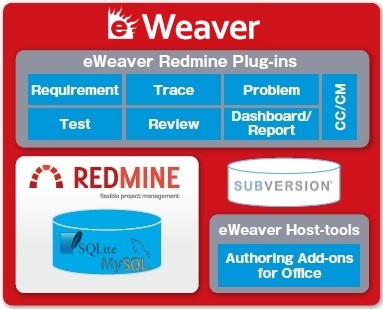 Open source software components underlie the eWeaver framework that contains the Redmine project management tool, the Apache Subversion version control system and MySQL database. The unique features that eWeaver offers are implemented as Redmine plug-ins.



Features

Features of eWeaver
eWeaver unifies the management of the whole development process, from requirement management to support management
Documents and source code are managed by Subversion. Issues in a project and activities such as review and testing are registered and managed as "tickets" in Redmine. Tracker, one of the Redmine functions, is used to categorize tickets and define workflows. The best possible series of development processes are originally configured in the trackers of eWeaver, and cover areas from requirement management to support management, to reduce time and cost for the workflow design from the very beginning.


eWeaver implements its own functions to enable automatic extraction of traceable items, linkage generation, and impact analysis
eWeaver automatically extracts traceable items written in each document and source code, and establishes links among the items to easily manage and track them. Thus, eWeaver enables developers to assess the extent of the change impact on existing tickets and artifacts of the entire project. These functions are provided as Redmine plug-ins and add-ons to related commercial office applications.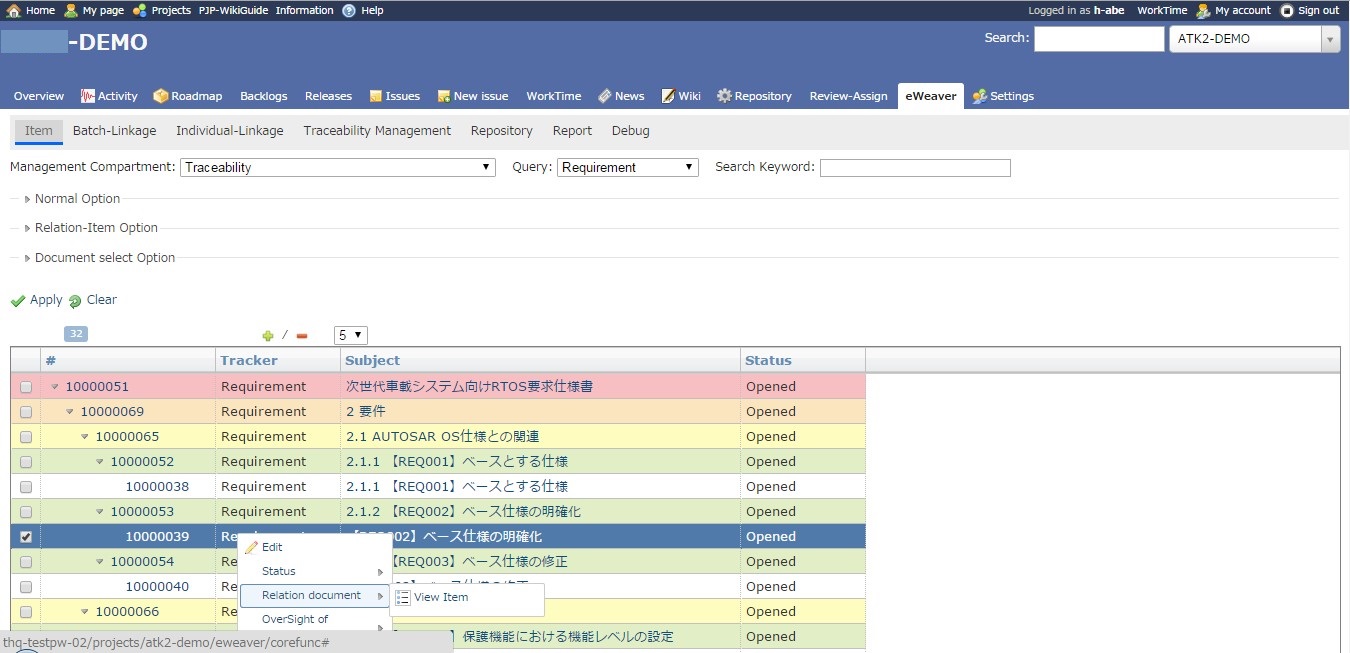 Traceability management * Click the image for a larger version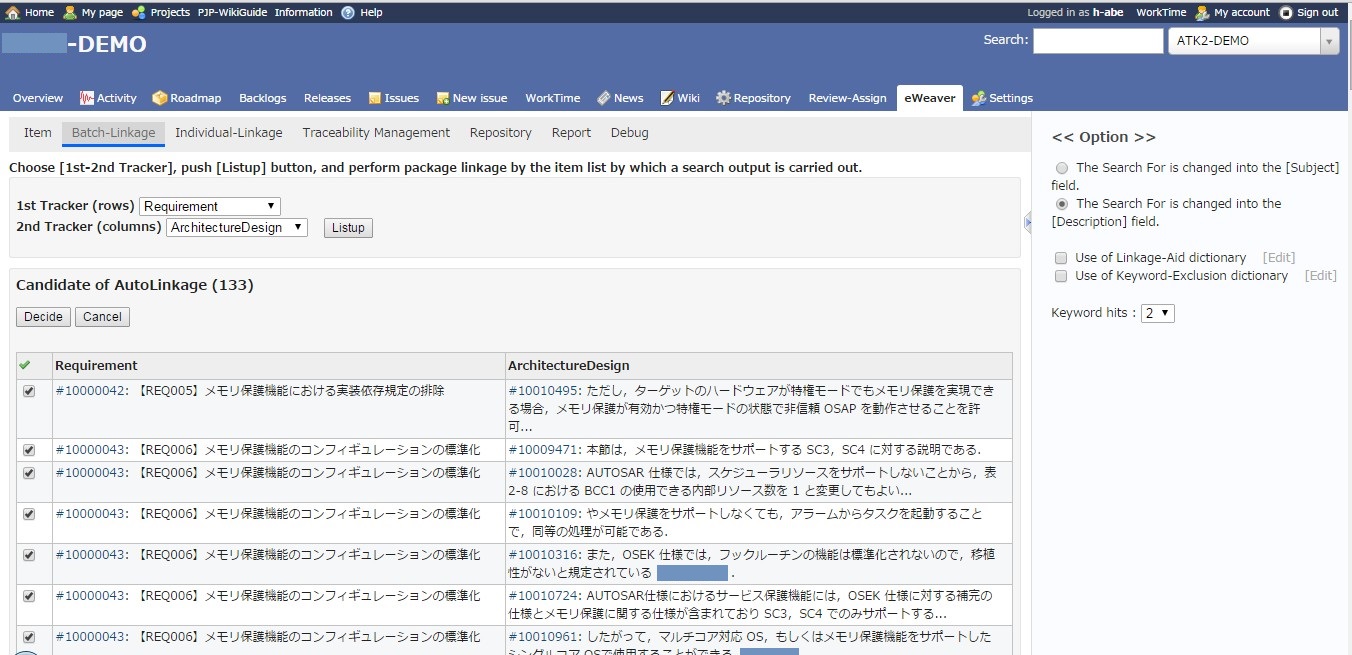 Batched linkage * Click the image for a larger version
eWeaver Implements the Backlogs plug-in to support agile scrum development using 'Task board'
eWeaver is equipped with the Backlogs plug-in most commonly used in the agile development framework. eWeaver is an advantage for agile scrum development with 'Task board' in the development of embedded software.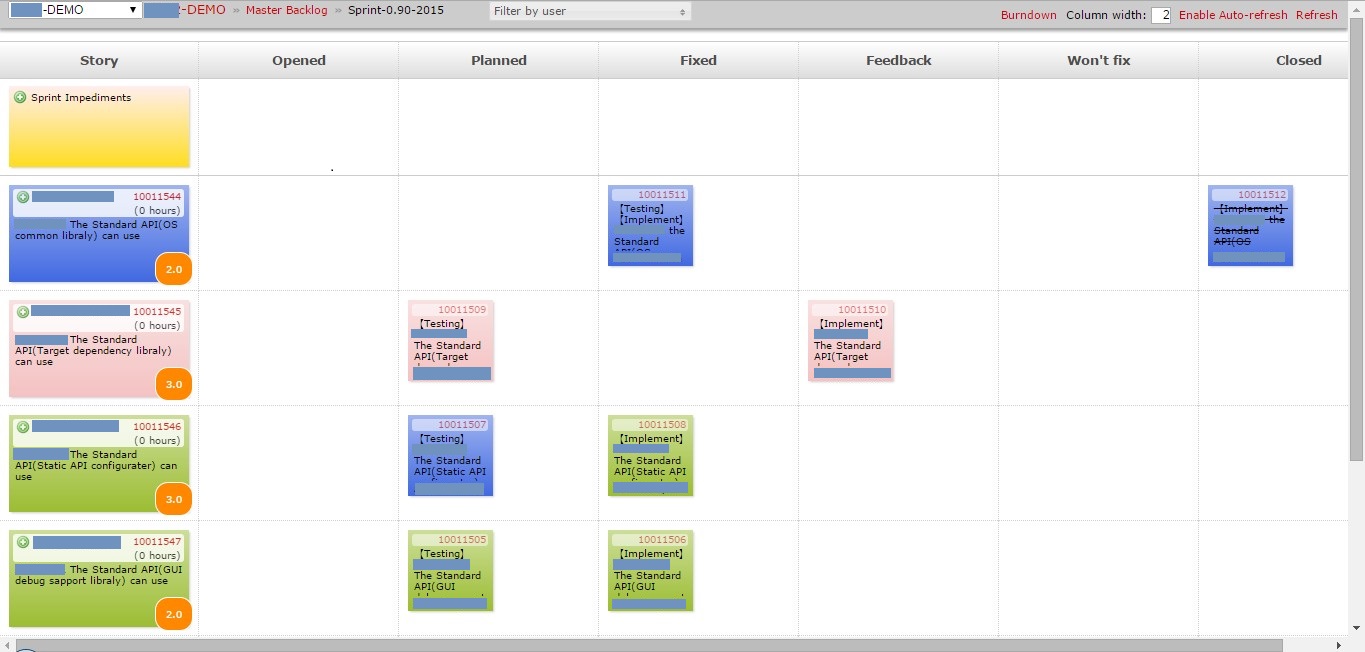 Task board * Click the image for a larger version
eWeaver offers a web browser interface for Redmine
eWeaver provides Redmine's familiar user interface. Since its web browser interface allows users seamless access in any network-enabled environment, eWeaver is suitable for development in dispersed geographical locations. eWeaver supports major web browsers such as Internet Explorer and Chrome.


eWeaver affords function expansion by users
Users can easily expand functions utilizing the Redmine plug-ins that are widely available in the market.


eWeaver supports conformance to functional safety standards
eWeaver is useful for validating that projects carry out adequate software development methods and processes to achieve compliance with functional safety standards. In addition to eWeaver, eSOL provides comprehensive solutions to support various developers' conformance efforts to the functional safety standards. With a combination of eSOL's and its partners' products and professional services, eSOL meets a wide range of needs from customers.


Way of Providing
eWeaver is offered in ether way of the followings. Selecting the cloud service version is more flexible to adding server storage in association with the change of the project, and shareing information among multiple sites.

Cloud service version: eWeaver is operated on the eSOL TRINITY Cloud service
On-premise version: eWeaver is operated on a client's unique server.