Overview
Running performance, safety, and comfort continue to improve for automobiles, while calls to reduce environmental load and other strict requirements are on the rise. These improvements are due in part to in-vehicle electronic control systems, which continue to increase in functionality and complexity, with a single vehicle now equipped with numerous network-connected in-vehicle electronic control units (ECU). Because of this, it is now essential to implement an in-vehicle diagnostic device together with the original ECU control function.
eSOL now provides the "eSOL Dr. CAN for UDS" in-vehicle diagnostic protocol stack, allowing ECU suppliers to develop highly-reliable, in-vehicle diagnostic applications in a short period of time, together with the "eSOL Dr. Repro for UDS" ECU reprogramming module service. "eSOL Dr. CAN for UDS" and "eSOL Dr. Repro for UDS" are compliant with UDS (Unified Diagnosis Services, ISO14229) and Diagnostics on CAN (ISO15765) Global Standards. Because of this, ECU suppliers can deliver to multiple automobile manufacturers instead of only focusing on one.
eSOL offers advanced technologies and abundant experience in the development of in-vehicle control systems. In addition to "eSOL Dr. CAN for UDS" and "eSOL Dr. Repro for UDS," we provide a variety of related professional services and support, including product implementation, outsourced development of tests in line with in-vehicle quality requirements, and reports on test results to meet ISO specifications. Because of this, users can acquire in-vehicle diagnostic functions in a short period of time, allowing them to focus on development of ECU control programs.
Also, we have started distributing packages containing functional safety compliance support documents for "eSOL Dr. CAN for UDS" and "eSOL Dr. Repro for UDS," including the "eSOL Dr. CAN for UDS QM Package" and "eSOL Dr. Repro for UDS QM Package." Since this provides ECU suppliers with the evidence required to show compliance with ISO 26262 Automobile Functional Safety Standards, the evidence creation load for "eSOL Dr. CAN for UDS" and "eSOL Dr. Repro for UDS" is significantly reduced.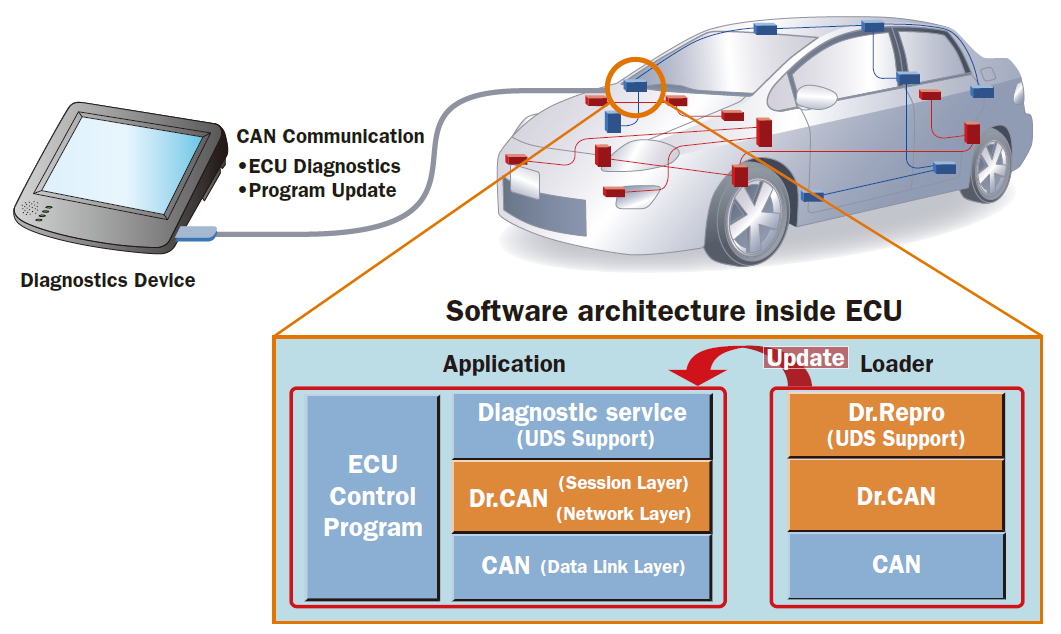 Features


Diagnostic communication functions are provided via CAN, while performance and reliability of ECU original control functions are ensured
Can be used with or without an OS
User operation is simplified so that functions just have to be called from the ECU control program, without needing to know about the protocol behavior defined by ISO specifications
ECU suppliers can get in-vehicle diagnostic functions by simply creating a CAN driver and each diagnostic service application

ECU software and calibration data can be revised
Reprogramming function can be easily performed after each phase of development, manufacturing, and market release
Merits of implementation
The in-vehicle diagnostic functions are easy to implement. By simply calling a single "eSOL Dr. CAN for UDS" API, influences due to ECU software modification can be minimized
By using "eSOL Dr. CAN for UDS" and "eSOL Dr. Repro for UDS" to develop in-vehicle diagnostic applications, the development period is greatly reduced compared to situations when they are not used.
* Actual results show a reduction ranging from one-half to one-fifth the former development period.
eSOL entrusted services include testing to meet ISO specifications, and report creation support
The compliance load for ISO 26262 Automobile Functional Safety Standards is greatly reduced