Next Generation High-speed Digital Camera EXILIM Pro EX-F1
CASIO Computer Co,. Ltd.









EXILIM Pro EX-F1 boasts the world's fastest (*1) burst shooting performance, targeting higher amateurs and professional camera users. This model incorporates a high-speed CMOS sensor and a high-speed LSI processor. With this model, Casio has achieved an ultra-high-speed burst rate of 60 frames per second (fps) for still images, together with 1,200 fps high-speed movie recording that captures movement faster than the eye can see, for ultra-slow motion replay. Moreover, the new model can record movies at full High-Definition.




(*1) As of June, 2008, based on a Casio survey for the consumer market digital cameras










EXILIM Pro EX-F1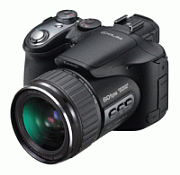 CASIO Computer Co., Ltd.
Comment from Mr. Jun Hosoda, Product Development Division
"The integrated eCROS solution package helped us jump-start the development right away, and eBinder includes impressive tools and functions. The task-level debugger and analysis tools especially brought us a remarkable improvement in our development efficiency."


Products