Kyocera Corporation
WX310K is a high-grade model PHS terminal that can browse and search websites using the Opera browser at data transmission speeds of up to 128kbps. It has a Flash Player to view interactive flash content with a wide range of colors and movements just like a PC. Bluetooth is available to support wireless data transmission. In addition to all those features, this terminal is customizable with Picsel Viewer, which can be used to view Word or Excel files. Or use Movie to record and play a movie by downloading a software license key from a dedicated site.



PHS terminal: WX310K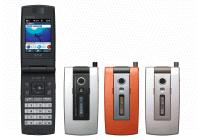 Kyocera Corporation
Comment from Mr. Takahisa Yamamoto, General Manger, Wireless Access Division, Telecommunications Equipment Group:
"We made a decision to use the Flash Player porting service and purchase the license from eSOL because of eSOL's accomplishment in embedded system development. As a result, we are confident that we have been able to build an environment to view expressive contents that satisfy our customers."
Products

Flash Player SDK