Development kit for network LSI YTD442: KT-VNP1/TA1
Yamaha Corporation
YTD442 is an LSI with an ARM processor that is optimal for a network-ready device like an IP phone or Internet-connected home appliance. A YTD442 evaluation board reference design has a LAN terminal and a PSTN (public switched telephone network) terminal, and operates as a one-channel VoIP adapter (VoIP-TA). The development kit for the YTD442 evaluation board comes with a variety of software (in source form) that runs on the evaluation board: PrKERNELv4, protocols such as IPv4, IPv6, SIP, RTP, and HTTPD, echo suppressor, software for telephone control, PSTN control, and VoIP-TA calling control. The source code is available for a developer to design software on the evaluation board to save time.
In addition, using eBinder, the standard software development environment, can help reduce time and the cost of development for any high-quality network-ready device.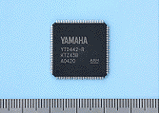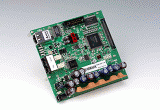 Comment from Mr. Tatsumi Ohara, General Manager of Semiconductor Division, Yamaha Corporation
"YTD442 is an LSI for IP phone devices and Internet-connected home appliances, which are gaining popularity. The YTD442 development kit offers software modules necessary for network-ready devices in source code. I believe that, using the source code, developers of network-ready devices can develop devices in a shorter period of time. And, we continue to offer better services in the software development environment to developers with eSOL, who has plenty of accomplishments and know-how's in the field of embedded software including realtime OS and development environment."

Products