Copy board PLUS "M11 Series"
Plus Vision Corporation
The M11 Series copy boards (electronic whiteboards) are the first to include a USB port as standard equipment, and use the LED light system for the reader. Users can save letters, drawings and charts drawn on the board surface of M11 to the USB Flash memory as image data. Also, users can utilize the M11, in a scanner-like way, to import letters, drawings, and charts directly to a PC that is connected to the copy board. The M11 uses an LED light system, which supports long life, low power usage, and lightning-fast speed. This enables a quick start, since the light is on the moment the power is turned on. It also eliminates the trouble of changing and maintaining the light source. The scanning functionality has been improved to record faint letters and drawings. Image data can be printed on regular paper when a color ink-jet printer is also used. The M11 Series includes two models: the 1,300mm width M- 11SI, and the 1,800mm width M-11WI. Users can select the one that suits their environment or purpose.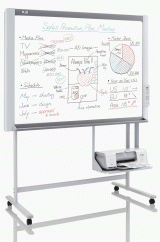 Comment from Yutaka Takeuchi, director, Design Department at Plus Vision Corporation
"We could build highly reliable systems by using eSOL products with proven track records. Since eSOL products are already verified for interoperability, we could build hardware peripherals and develop software efficiently to focus on upper applications. This helps us to realize shorter development time and less cost."

Products