Sharp Corporation
AQUOS is the LCD color TV with Sharp's original ASV (Advanced Super View) low reflection black TFT liquid crystal combined with the high resolution image processing engine for high-definition images, which produces high contrast visuals like a CRT TV. LC-20B5-S contains Sharp's original 1-bit digital amplifier for higher sound resolution allowing reproduction of a high-density sound field. In addition to its advanced features and performance, this product is an excellent choice for the environmentally friendly world. It has low power consumption and uses a long-life backlight and "green" materials for utilizing resources.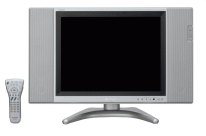 20V model LC-20B5-S and 15V model LC-15B5-S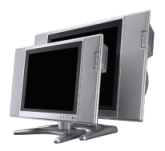 The PC card slot in AQUOS supports SD memory cards, compact flash, memory stick, and large-capacity harddisk PC cards to record and play movies or still images. Save TV programs as motion pictures or memorable scenes as a still image. Display digital camera shots on the large screen as well as saved movies or images. In this product, PrFILE is used to record movies and images on memory cards and read recorded files for display. PrKERNELv4 provides task management, memory management, and the realtime processing that is the base of the entire system.

Products