Radio Server VJ-10: Clock Radio with Built-In HDD
Olympus Imaging Corp.
Radio Server VJ-10 tunes in AM/FM transmissions, and because of its 37GB internal HDD, users also have the ability to store between 1,250 and 2,500 hours of footage (based on quality) into WAV files. Moreover, the USB 2.0 connector allows users to access the drive from any PC, and the SRS WOW XT stereo speakers provide a memorable listening experience. Users can queue up recordings based on time, and thanks to the large integrated LCD screen, all the information users need is now front-and-center.






Radio Server VJ-10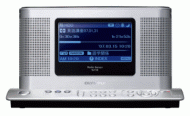 Products