Receiver terminal for "Mobaho": Mobile broadcasting cradle receiver
Mobile Broadcasting Corporation
This is a receiver terminal for "Mobaho" used on cars or at home. It has an LSI designed for mobile broadcasting, with excellent digital broadcasting/receiving technology and system LSI technology. It's easy to bring outdoors to easily enjoy "Mobaho" content. Use the on-board cradle in a car or at home.
"Mobaho" is the broadcast satellite service run by Mobile Broadcasting Corporation for personal use while driving or outdoors. The service was started in 2004, and there are approximately forty channels available all over Japan, including about thirty music channels, seven movie channels, and other data services.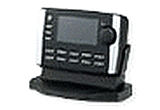 PrKERNELv4
manages the tasks and realtime processing that are the base of the entire system.
Products