Kodak EasyShare V570 dual lens digital camera
Kodak
Kodak EasyShare V570 dual lens digital camera (V570) is the world's first camera that contains both a 23mm ultra-wide lens and an optical 3x zoom lens in one camera with a CCD sensor. This camera can shoot a group photo, landscape, impressive portrait, or close-range photo using its wide range of focal distance from extra wide to the equivalent of 5x zoom (23mm - 117mm). The 86-degree ultra wide field of view lets you shoot your targets in a small room or a large building without backing up, or put a wide landscape in a single picture. Also this digital camera has the ultra-wide panorama feature that combines up to three pictures within the camera - you can create a 180-degree panorama photo using three wide-angle pictures. The camera has even more features, such as movie recording, despite its small size. All this is made possible through the Kodak color science image processing chip filled with Kodak's years of experience producing vivid and natural colors.






Kodak EasyShare V570 dual lens digital camera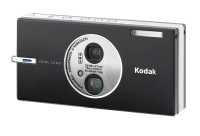 Kodak Digital Product Center, Japan Ltd.,
Comment from Mr. Shinichi Mori, Software Design Group V570FW Development leader
"We have been using eBinder and PrKERNELv4 for the V570 including existing models. eBinder is easy to develop with the resources we already have. So, we were able to fully use software resources from a previous model to proceed with our project efficiently on an environment we had already gotten used to. PrKERNELv4 is very reliable, and the performance is great also. That's why we continued to use it. And, licensing is per project. This saved us another round of license renewal costs and contract agreements."


Products