Kodak EasyShare Z1275 Zoom Digital Camera with High-Definition Capability
Kodak
The Z1275 model is currently marketed in Europe, North America, and Asia Pacific (excluding Japan). Kodak also leverages the latest DaVinciTM digital media processor from Texas Instruments. The TMS320DM35x processor is specifically tuned for digital cameras to deliver high-definition MPEG-4-formatted video performance. The new Z1275 camera features a 2.5-inch LCD screen, with which you can enjoy both static and moving images on hand. It also has various picture-enhancing and editing features, such as trimming an image in the LCD monitor, digital red-eye reduction, and digital image stabilization to reduce the blur caused by camera shake or subject movement. Kodak EasyShare Software (included) enables you to share your pictures and movies with your family and friends, create your own photo cards, and easily print your photos.

Kodak EasyShare Z1275 Zoom Digital Camera with High-Definition Capability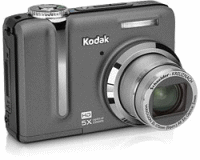 PrKERNELv4 is the base of the entire system for Z1275, supporting task and memory management, and realtime operation. eBinder is the Integrated Development Environment for Z1275, and includes various development tools for debugging and system analysis. These tools are specifically designed for realtime system development that requires accuracy in operation under a constrained environment like a digital camera. eBinder's development tools and features facilitate developing high-quality software rapidly and effectively. PrFILE2 serves as the main file system and ensures data-format compatibility with PCs via SecureDigital cards. PrUSB/Device enables the camera to directly connect to USB host devices such as PCs and printers.