DVD Camcorder DZ-GX20/DZ-MV780
Hitachi Ltd.
DZ-GX20 from the value-added GX series has a newly developed 8cm DVD drive, 2.12 megapixel CCD, 2 megapixel lens, and internal video flash to achieve high image quality in a compact size. DZ-MV780 from the MV series also has the new 8cm DVD and is the smallest consumer DVD camcorder in the world (*1). Both models gained popularity with their design and usability. The image quality is improved by a newly developed high-resolution image processing circuit "PictureMaster for DVD camcorder" while power consumption is reduced by 20% from previous models. Additionally, usability is improved with a significant reduction in startup time when a DVD disk is loaded on the machine. The camcorders inherited the 16:9 widescreen from previous models as well as the USB2.0 high-speed mode and the still image recording function for SD memory cards for seamless connectivity to a PC or digital home appliance.

(*1) As a consumer-use camcorder using a DVD as a recording media, as of June 2005.

DZ-GX20

DZ-GX3200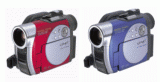 DZ-MV780


PrKERNELv4
manages the tasks and realtime processing that are the basis of the system.
PrFILE
reads and writes still image data to/from SD cards in the camcorder. Since PrFILE's file system is compatible with PCs and other devices, data on the card is ready for printing or replaying on a TV or DVD recorder.

Products