DVD Camcorder DZ-GX3300/DZ-GX3200/DZ-GX3100
Hitachi Ltd.
The biggest strength in DZ-GX3300, DZ-GX3200, and DZ-GX3100 is the quick start mode that allows the camcorder to start up in approximately one second. This function lets you start taking pictures whenever you are ready. Also, there is the still image capturing feature you can use to select a scene from a recorded movie to turn into a picture (still image). The camcorders utilize "PictureMaster for DVD camcorder" with image processing features specialized for handling DVD images based on MPEG2 compression. This feature enables recording and replaying of high-resolution images.
DZ-GX3300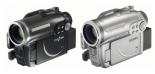 DZ-GX3200


DZ-GX3100


Hitachi Ltd.
Comment from Mr. Morio Aoki, Product Development Division, Storage Device Department, Device Design Group:
"One of the main reasons why we used eSOL products since a previous model is the high performance and reliability of PrKERNELv4 and PrFILE. And, eBinder's various development tools and features for efficient designing are attractive, too. We also liked the per-project licensing, which let us start the development project right away without having to renew the license agreement."