Multimedia storage viewer: P-2000
Seiko Epson Corporation
This is a multimedia storage viewer with a transparent low temperature polysilicon TFT liquid crystal display, called Photo Fine, which is one of the best in the large screen 3.8" class* for viewing high-quality images and movies. It can replay raw data from a single-lens digital camera, JPEG, MPEG4 or MotionJPEG video, and MP3 or AAC music. It is loaded with a large-capacity 40GB HDD, a CF card slot, and an SD memory card slot, as well as a USB2.0 interface.
*As a liquid crystal display on a mobile imaging device, as of Sept. 28, 2004.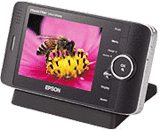 PrKERNELv4
and PrFILE in this system ensure the high performance and reliability that are the basis for the variety of sophisticated features available in this device. The solid realtime performance of
PrKERNELv4
provides the environment necessary to fully enjoy the Photo Fine Player P-2000. PrFILE provides the secure and reliable file operation/management functions. Also, PrFILE manages files on Photo Fine Player P-2000 in the same way as on a PC, so that users can easily move or exchange image and music files.
Products