Overview
* Click to enlarge
Features
・ Unique technology delivers fast and accurate CNN learning
・ Fully edge-based image recognition (no cloud or network connection required)
・ Execution speed 2 to 4 times faster than Caffe with only 1/3 of the memory space
・ CNN learning time greatly shortened from several months to one week
・ Optimized for embedded applications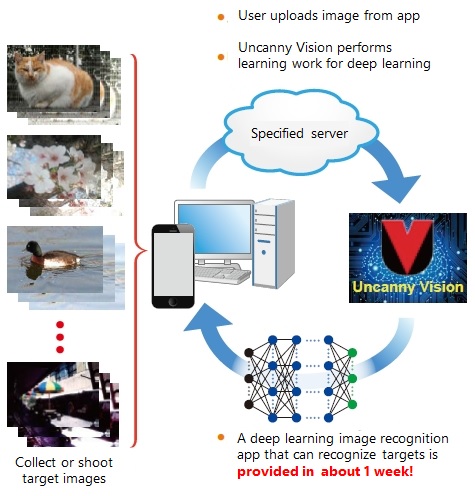 Use cases
・ Image recognition in edge devices
・ Intelligent IoT
・ Antitheft or surveillance devices
・ Machine vision
・ Human behavior recognition
・ Abnormality recognition
・ AR, computer games
Specifications and price
Kit
KitA
KitB

KitC
Number of recognition targets
Up to 5 types
Up to 10 types
10 types or more
Minimum number of images per recognition target
300

300
300
Number of times CNN learning performed
Up to 1 time
Up to 2 times
(*)

Number of times images uploaded

Up to 1 time

Up to 2 times

(*)
Deliverable

Image recognition app

(supports Android or Linux)

Image recognition app

(supports Android or Linux)

Image recognition app (*)

(supports Android, Linux, or other operating system)

Price
\ 500,000
\ 800,000
(*)
* Determined based on user request.
Main flow for use
・ Purchase Kit (A/B/C) according to user request
・ Install dedicated app for Android smartphones
・ Collect or shoot images for deep learning
・ After collecting or shooting sufficient images for each recognition target, upload the images to the specified server
 - At least 300 images required for each recognition target, no upper limit
 - Can be uploaded from a smartphone app or PC application
・ After about 1 week, an app that can recognize each target is provided as a deliverable from Uncanny Vision
Example of actually using an image recognition app
・ The app provided by Uncanny Vision with machine learning completed is installed.
・ When the recognition target image is shot, the deep learning recognition operation is started.
・ The recognition result and probability are displayed on the screen.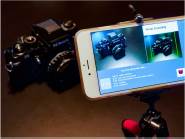 Precautions
・ The recognition target is limited to objects and scenes.
・ The CNN to use for learning is selected by Uncanny Vision.
・ Because the learning process of deep learning starts as soon as the learning images are uploaded,
 please collect or shoot sufficient images before uploading them.
・ The app cannot be used after the predetermined number of times of performing learning has been reached.
・ The expected image recognition rate is about 80%. However, because this depends on the quality of the learning images and the number of images provided,
 this is not a guaranteed value.
Related Products