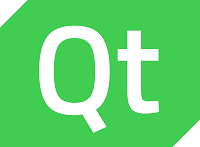 Overview
Qt from TheQtCompany
provides APIs with high functionality, extensibility, and orthogonality that are suitable for the development of advanced applications to deliver maximum benefits in application development. Qt is also a multi-platform C++ GUI toolkit that can be used to develop applications that run on multiple platforms from a single source code. This enables the efficient building of a wide range of applications, from applications for UNIX, Linux, Windows, or Mac OS X, to embedded applications.
This superb development concept is highly rated by software developers all over the world. When including GPL versions, LGPL versions, and commercial versions, more than 750,000 developers worldwide are using Qt. Qt has been used to develop thousands of software products for commercial use, in fields as diverse as university education, defense, space development, special video technology, medicine, science and technology simulations, media players, mobile, and automotive.
Features
Multi-platform
Applications developed using Qt can operate on any platform. In the case of embedded applications, application development can proceed in a Windows or Linux Qt environment before the actual hardware is completed, leaving just testing in the actual environment after the hardware is completed.
High-performance
The most significant difference between Qt and Java is that Qt does not require a virtual machine.
Qt is implemented with draw APIs that are primitive to each platform, which enables the development of applications with high-speed operations.
Simple and user-friendly APIs
Advanced knowledge and skills are not required to master Qt. The APIs are implemented with simple and elegant object models, with excellent orthogonality and flexibility. Developers can program through natural reasoning by inferring unknown APIs from APIs with which they are already familiar.
This reduces burdens on developers by reducing both the development work itself and the learning involved, which results in lower development costs.
Multilingual support
Providing multilingual support for software products is a simple way to significantly increase the potential number of users.
Qt has a function for greatly simplifying the work involved in internationalizing applications.
Flexible
Qt does not use existing toolkits for drawing widgets (controls). For example, Qt uses a low-level API to draw buttons for display on Windows, instead of the buttons provided by MFC.
Further, widgets (controls) in the same style as Window Motif are drawn according to the typical look and feel used on each platform.
Qt draws its controls and graphics without relying on the OS native controls, which allows better portability across devices. The provision of Qt as source code enables greater flexibility for customizing the look and feel, and makes implementation more effective.
Support and training
Support and training for Qt is provided by SRA. Services include a local support desk with no time zone difference for inquiries in Japanese, support for fast resolution of problems specific to Japanese language environments, periodic training, custom training, and development support services. (Some services are available as options.)