Overview
The Image recognition software developed by PUX has been created and is tailored for embedded devices.
It incorporates a variety of functions such as face recognition, attribute recognition, human detection/tracking, license plate recognition, this software has been used in a variety of commercial products from game consoles and smartphones to digital cameras, camera monitoring systems, and parking systems.
This makes it relevant to build several systems that can take advantage of such technology, for example:
-Garage entrance authentication (for cars and people)
-Driver monitoring (for sleep, for correct position in the car)
-Baby remote monitoring (for hospitals, for home)
-Entrance gate automated checking (business buildings, passport control)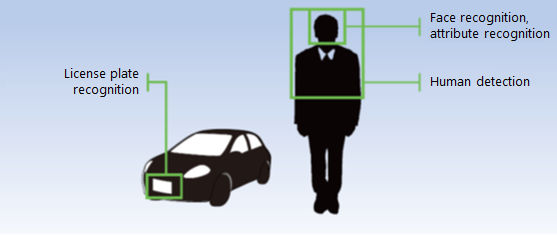 Extensive vision functionalities
Face recognition, attribute recognition
Using deep learning technology, the PUX vision software offers improved shape and object recognition (more than 10% better over previous version).
Accurate and fast operation is provided for at least the following algorithms:
- Face detection: detects multiple faces from a single image. Tracking is also possible.
- Face authentication: able to authenticate registered faces at high precision.
- Face part detection: able to detect coordinate positions of eyes, nose, mouth, and other facial features.
- Blink inference: detects whether eyes are opened or closed.
- Smile inference: detects smiles.
- Baby detection: infers if a baby is in the photo (under 18 months old).
- Face direction detection: infers face direction.
- Line of vision detection: infers which direction the target is looking.
- Gender inference: infers male or female gender based on facial image.
- Age inference: infers age of target from facial image.
Human detection, tracking
・The silhouettes of multiple people are detected from a single image, and can be tracked.
Human head detection
・Detects human heads from directly above, with a ceiling-mounted camera, etc.
License plate recognition
・High-precision recognition possible, even from diagonal angles.
Related Products