Overview
eSOL offers DLNA CERTIFIED™ DMS (Digital Media Server) and DMP (Digital Media Player) for embedded systems, developed by Rovi known worldwide for its proven technology.
Various professional services including system porting and customizing are also available.

What is DNLA?
The Digital Living Network Alliance (DLNA) group work towards a vision of a wired and wireless interoperable network of Personal Computers (PC), Consumer Electronics (CE) and mobile devices in the home, enabling a seamless environment for sharing and growing new digital media and content services.
[Source: Adapted from DLNA Web site
]
DLNA is a specification to audit music, photo, and video files which are stored in a PC, HDD built-in recorder, or NAS (Network Attached Storage) by a wired and wireless auditing devices such as a TV, DVD recorder, or a set top box at home. DLNA-compliant TV, HDD built-in DVD recorders, NAS, and various TV-connectible playback devices are already available at major CE and PC peripherals manufacturers.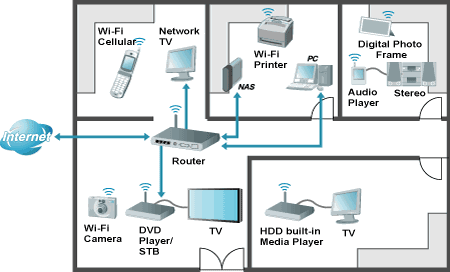 DMSs (Digital Media Servers) such as NAS and PC can play audio- and video-streaming simultaneously on multiple DMP (Digital Media Player) built-in devices through a wired and wireless home network.

Rovi's DLNA CERTIFIED™ Software
Rovi's DLNA CERTIFIED™ Products will be designed to DLNA guidelines and will interoperate with other DLNA devices, resulting in lower support costs and fewer product returns.
DLNA is optimized for embedded platforms --- low memory usage, lightweight C implementation, and isolated dependencies on OS features such as file systems. Your product can be based on small, efficient processors and minimal memory to achieve reduced system BOM cost.

Features of Macrovision's DLNA CERTIFIED™ Software:
Provides Media Server and Media Player for embedded systems
Provides Media Server for PC
Integrates into eSOL's eBinder IDE, which delivers a comprehensive solution, from realtime OS and TCP/IP protocol stack, to codecs.
Provides Professional Services such as porting based on the customer's system and customizing.