Summary
Support activities with respect to development processes, the maintenance of environments, and so on are a requirement when it comes to implementing functional safety standards. In addition, on-site coordination of software development activities and a feedback loop are also a must.
eSOL offers comprehensive solutions that provide powerful support for the implementation of Functional Safety in the automotive, industrial devices, and medical market. These services combine eSOL's own products with our partners' products, along with consulting and development contracts. In this way, eSOL can support activities on both sides while flexibly responding to the customer needs.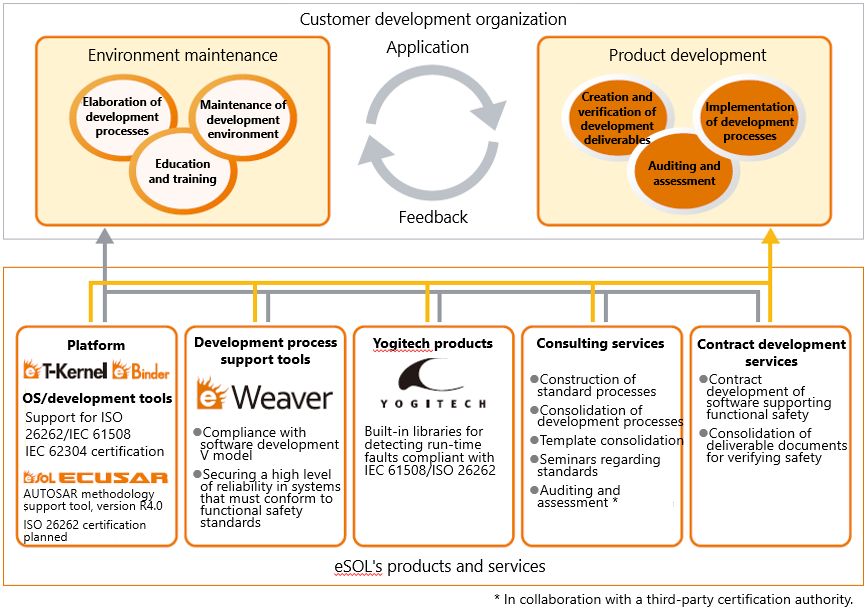 Range of activities with respect to standard specialties
eSOL's solutions cover the automotive, industrial equipment, and medical equipment needs, all of which require Functional Safety. In these fields, eSOL supports functional safety implementation in the development of embedded software with a focus on its specialties of software development and support processes.
As one example, the range of activity with respect to Functional Safety standards for automobiles is given below.
Range of activities related to the Functional Safety standard ISO 26262 for automotive




Support for a wide range of needs with a focus on Part 6 of software development and Part 8 of process support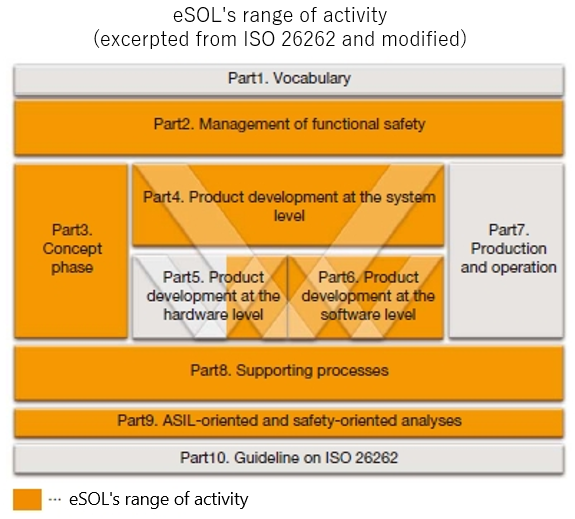 Overview of Products and Services
eSOL can flexibly support a wide range of needs by combining our own products with the products and services of our partners.



Consulting Services

Contract support services
eSOL products
Real-time operating system development tools
AUTOSAR Methodology Support Tool Version R4.0: Under development, ISO 26262 third-party certification planned
"eWeaver" Development Process Support Tool