Extended T-Kernel — RTOS for embedded systems
eSOL has improved and fine-tuned T-Kernel, the T-Engine standard real-time OS. The result is eT-Kernel, a real-time OS for embedded systems.

Features and benefits
Improved and tuned open source T-Kernel
Based on the T-Kernel source code distributed by the T-Engine Forum, eSOL has applied extensive experience gained through µITRON to improve and fine-tune both functionality and performance. eT-Kernel has the following features compared to the open source T-Kernel:

Dramatically shortened system startup time
Improved interrupt response time
Service calls for task switching, activation, and finalization are faster
Functions added to adjust memory footprint by configuration
Improved portability by layering and modularizing the hardware dependent code
Maintains compatibility with T-Kernel
eT-Kernel maintains full compatibility with the T-Kernel distributed by the T-Engine Forum. eSOL is a registered distributor of modified versions certified by the T-Engine Forum.

Available in three profiles
eT-Kernel is Available in three profiles to fit any system size and purpose. From a compact model with high real-time performance similar to µITRON to a model with memory protection and a process model like Linux, and to a model which is compliant with POSIX specifications, eSOL has it covered.

| | |
| --- | --- |
| | Real-time OS compliant with POSIX specifications |
| | Real-time OS with memory protection and a process model for large systems |
| | Compact real-time OS with high real-time performance. Configuration is similar to µITRON |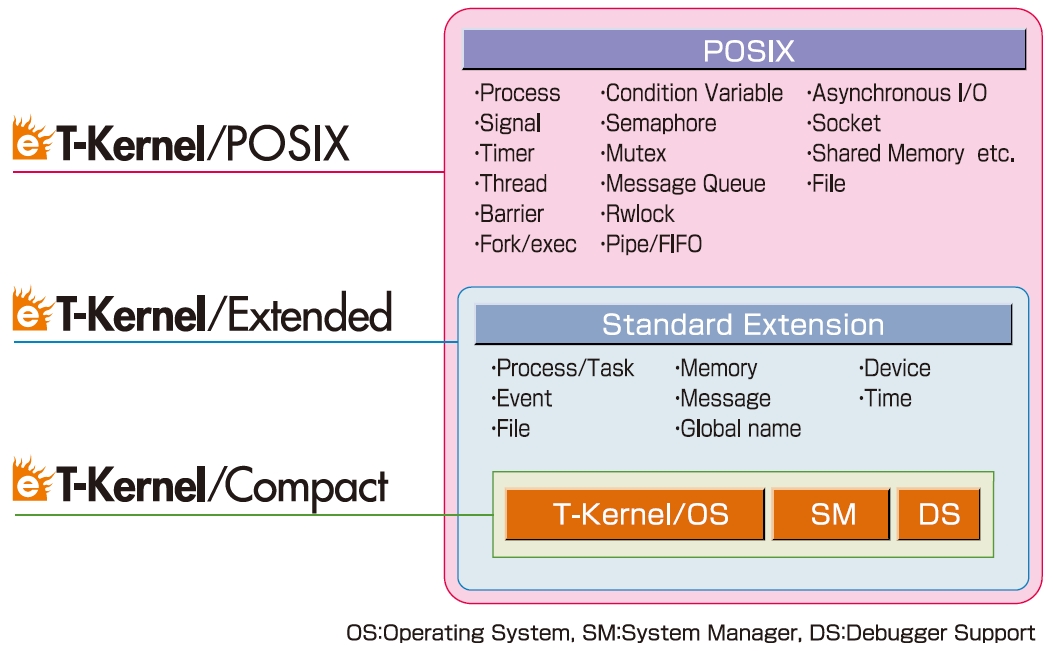 Software assets can be reused on the three profiles
eT-Kernel/POSIX, eT-Kernel/Extended, and eT-Kernel/Compact have the same core kernel. Therefore, device drivers and middleware can be reused on each profile as kernel applications. Reusing software can improve development efficiency especially when changing profiles based upon a product series.

Common development environment for three profiles: eBinder
eSOL offers
eBinder
, a development environment for T-Kernel-based embedded software development. eBinder can be used for development with everything from the µITRON-based PrKERNELv4 to T-Kernel/Compact, eT-Kernel/Extended, and eT-Kernel/POSIX. There is no need to learn a new development tool every time the OS or target profile changes.
Easy migration from PrKERNELv4
Migration from
PrKENRELv4
is easy because the hardware-dependent code is shared between eT-Kernel and
PrKERNELv4
.
Availability
All three profiles of eT-Kernel are available in source code.

Documentation
A full line of documentation including User's Guide, Board Support Guide, and Getting Started are available.

Maintenance service and customization service
The following maintenance service is offered for eT-Kernel:

Email response regarding the product
Minor version upgrades
eSOL also offers customization service to tailor eT-Kernel to a different environment, such as custom hardware.
---
T-Engine's configurable software architecture
T-Engine has a scalable layered software architecture that is configurable depending on the system being developed. T-Kernel is the core of the architecture with various appendable schemes to encourage the reuse of software. The following shows the features and benefits of each architectural component.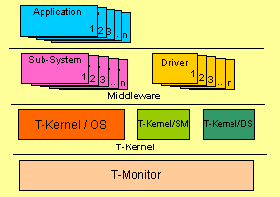 T-Kernel consists of: The T-Kernel/Operating System (T-Kernel/OS), the T-Kernel/System Manager (T-Kernel/SM), and T-Kernel/Debugger Support (T-Kernel/DS). The list below shows their functions. T-Kernel/OS is the main part of T-Kernel and includes all task management features, memory management features, and system control features included in a standard realtime OS such as µITRON. T-Kernel/OS can only be called T-Kernel in a strict sense.
T-Kernel/OS
(Operating System)
T-Kernel/SM
(System Manager)
T-Kernel/DS
(Debugger Support)

Task control
Task synchronization and communication
Memory management
Exception/interrupt control
Time management
Subsystem management

System memory management
Address space management
Device management
Interrupt management
I/O port access support
Power management
System configuration information management

Kernel internal status referencing
Execution trace
T-Engine defines a standard driver interface and device driver specification. This is applied to device drivers for all peripherals loaded on a standard T-Engine board. Standardizing the driver interface makes middleware portable from one hardware environment to another.
A subsystem is a shared library with an interface defined by T-Engine. As indicated in the diagram, a subsystem operates on T-Kernel, while T-Kernel/OS controls the subsystem within T-Kernel. It can be linked to T-Kernel statically or loaded dynamically. For example, middleware like a file system or TCP/IP protocol stack can be implemented as a subsystem. A user library can also be implemented as a subsystem. Implementing middleware or a library created by a user as a subsystem provides a common interface to upper layer applications. Because a subsystem is not dependent on a CPU or board, even when hardware is changed, a subsystem does not need to be modified; only recompiling is required to migrate to a new platform.